ELLESU Nigerian Food Catering Service for Autumn Nigerian Traditional Wedding in Kingston upon Thames, UK - Case Study
May 26, 2023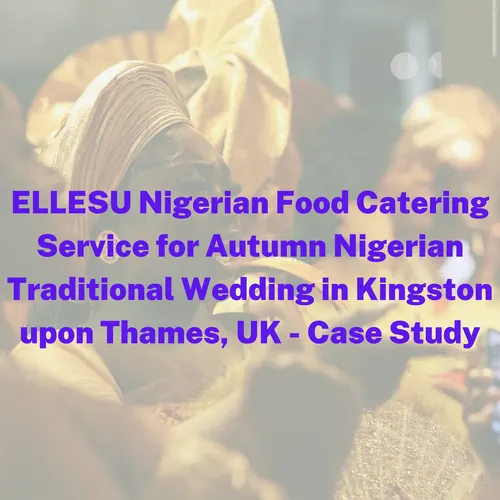 ELLESU Nigerian Food Catering Service for Autumn Nigerian Traditional Wedding in Kingston upon Thames, UK Case Study Introduction:
ELLESU Restaurant had the honor of providing an exceptional culinary experience for a traditional Nigerian wedding held in the picturesque town of Kingston upon Thames, southwest London, UK.
This case study highlights the remarkable efforts of ELLESU Tasty African food Restaurant in catering to the unique requirements of the event, delivering delectable Nigerian cuisine to a gathering of 300-350 guests.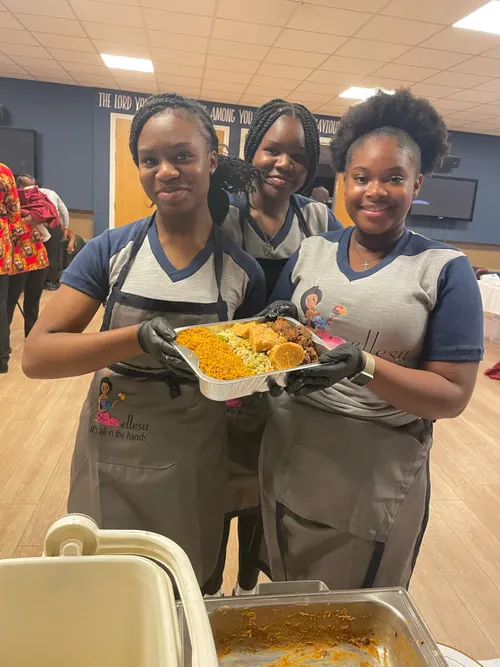 ELLESU Nigerian Food Catering Service for Autumn Nigerian Traditional Wedding in Kingston upon Thames, UK Project Overview:
Project Name: ELLESU Nigerian Food Catering Service for Autumn Nigerian Traditional Wedding in Kingston upon Thames UK
Location: Kingston upon Thames, southwest London, UK, England.
Catering Company: Ellesu Restaurant & Catering Services, Call - +447946878254
Size/Number of Attendees at the venue: 300 - 350 guests.
Dishes served/Menu: Jollof rice, fried rice, fried chicken, stewed beef, salad, plantain, moinmoin, Egusi, pounded yam and small chops.
Number of Servers: 5 servers
Ingredients used in Dishes: we sourced most of our items from our local African food store and meat market. Our client was specific about not using fish or crayfish when making Moi-Moi due to allergies which were adhered to strictly.
Duration of the Event: We were commissioned for 6 hours, including setup, serving the finger food, serving the buffet, and monitoring the food's health.
Time of completion: 3pm - 9pm (6 hours)
Client Specifications/scope of job: It was an honor working with the beautiful bride for her traditional wedding where she explained what she wanted, and we advised the best options and alternatives for the evening.
Specification 1: We arranged a food tasting where we provided various options which the bride was happy with. She stressed that she loved her rice partially cooked and more on the hard part. The jollof rice served that evening was the talk of the night.
Specification 2: Most of our planning had to be done weeks in advance to ensure we meet the specific delivery time. We worked very closely with the bride, and we consulted on the best practice and cost-effective approach for her special night.
Problems encountered: One of the things that we were blindsided by was the traffic, we did not anticipate the traffic which led to a slight delay of 10 minutes to the service time.
Solution: Our takeaways would be to always have a checklist to follow through when catering for many guests and most especially offsite.
Nigerian Wedding Caterer Client's Vision and Collaborative Approach:
ELLESU African Food Restaurant had the pleasure of working closely with the beautiful bride to curate an unforgettable menu that would capture the essence of Nigerian flavors.
The bride expressed her preferences, and ELLESU Nigerian Food Catering Restaurant's expert team provided valuable suggestions and alternatives to ensure a perfect evening.
In order to align the menu with the bride's desires, ELLESU Nigerian wedding caterers arranged a food tasting session, allowing the bride to sample various options and provide her invaluable feedback.
ELLESU Nigerian Food Exquisite Menu Selection:
With the bride's guidance, ELLESU Traditional Nigerian food Restaurant meticulously crafted a menu that showcased the diverse and tantalizing Nigerian cuisine.
The sumptuous feast featured signature Nigerian dishes such as aromatic Jollof rice, flavorful fried rice, succulent fried chicken, tender stewed beef, refreshing salad, golden plantains, traditional MoinMoin without fish or crayfish, luscious Egusi soup, piping-hot pounded yam, and an assortment of delightful small chops.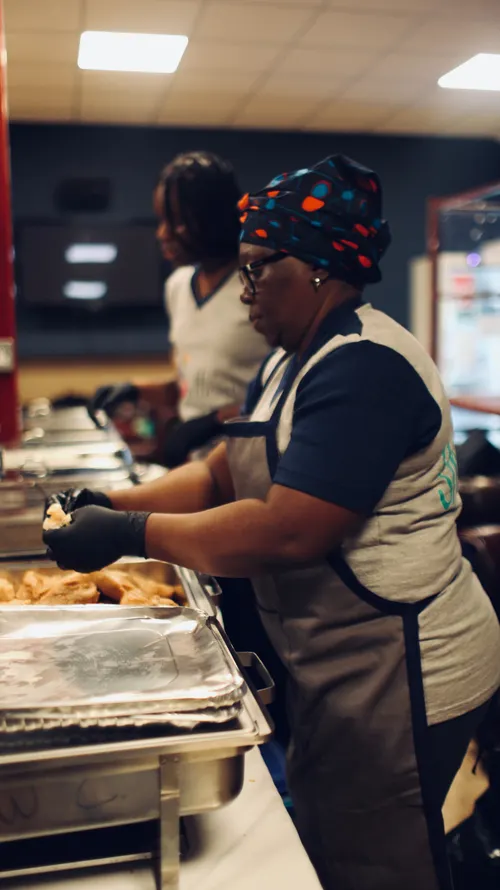 ELLESU African Food Catering Service Attention to Ingredients and Allergies:
ELLESU Restaurant took great care in sourcing the freshest ingredients, with a focus on supporting local African food stores and meat markets. A crucial aspect of the event was adhering to the bride's request to exclude fish and crayfish from the MoinMoin due to allergies.
ELLESU Nigerian Catering Restaurant ensured strict compliance with this requirement, providing a safe and delicious alternative for all guests.
ELLESU Nigerian Food Catering Seamless Execution and Service:
The ELLESU Nigerian Food Catering Restaurant team displayed exceptional professionalism and efficiency throughout the event. With a staff of five dedicated servers, they flawlessly managed the catering process.
The entire duration of the event, including setup, serving finger foods, buffet service, and maintaining food hygiene, spanned six hours, from 3pm to 9pm.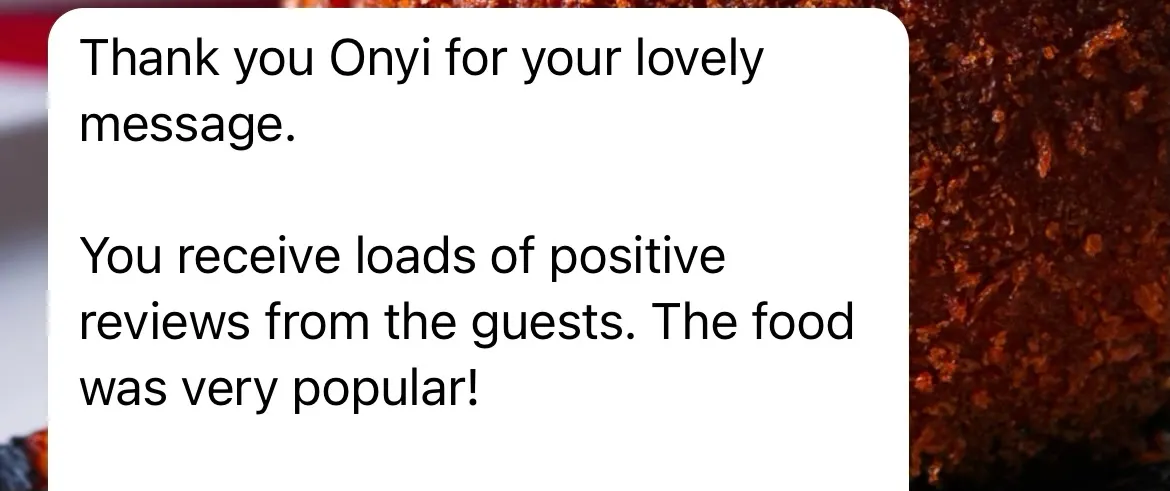 ELLESU Nigerian Wedding Unforeseen Challenges and Effective Solutions:
Despite meticulous planning, ELLESU Nigerian Food Catering Restaurant encountered an unexpected challenge—the traffic. Heavy congestion caused a slight delay of ten minutes in the service time.
However, the team swiftly adapted, demonstrating their commitment to delivering a flawless experience. This african food catering for weddings experience reinforced the importance of having a comprehensive checklist in place when catering for large-scale offsite events.
ELLESU African Catering Service Conclusion:
ELLESU Nigerian Food Restaurant's catering service for the Autumn Nigerian Traditional Wedding in Kingston upon Thames, UK, exemplified their expertise in Nigerian cuisine and dedication to exceeding client expectations.
By collaboratively working with the bride, ELLESU west african caterers created a memorable culinary journey that celebrated the richness and authenticity of Nigerian flavors. With their meticulous planning, attention to detail, and ability to adapt, ELLESU african food catering service for weddings showcased their prowess in delivering exceptional catering experiences, even in the face of unexpected challenges.
To experience the exceptional Nigerian culinary delights of ELLESU Restaurant & Catering, visit their website or call here +447946878254